See some of the oldest sites of Antwerp, including the Our Lady's Cathedral, the city hall, the medieval castle... .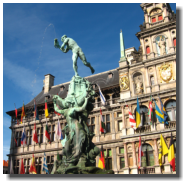 Our experienced guide Gerd will tell you all you want to know about the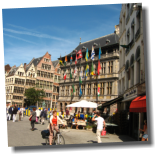 rich history of this city and its historical inhabitants. Discover all the landmarks, from the first settlement, dating back to the 7th century, to the oldest skyscraper. And if you wish we can end the tour with a taste of our famous beer in a typical Antwerp pub.
Duration of the walk :  1,5 hrs
Guide : Gerd
Price : € 75,00 per group of max. 25 people
Departure : The Steenplein (Castle Het Steen).
Interested?  Would you like to book a tour?  Get in touch with us and fill in the form or call Gerd at + 32 (0)486 99 10 49.